Mon premier concert fut les Compagnons de la Chanson à Bobino en 1961 (j'avais 11 ans) ! C'était mon groupe favori de l'époque (ils avaient même des guitares électriques !). Puis j'ai découvert le Rock avec Johnny, les Chaussettes Noires, les Chats Sauvages, Richard Anthony.... Ensuite, je suis devenu fan des Shadows et de Cliff Richard, l'Elvis anglais. Ce fut d'ailleurs mon premier concert de Rock, en mai 1963 à l'Olympia. Papa et Maman m'avaient laissé y aller parce que j'étais accompagné par un 'grand'.
En 65, ce fut le concert historique des Beatles au Palais des Sports . 'Ticket to ride' venait de sortir, et Paul a terminé par un 'Long Tall Sally' incendiaire. A vrai dire, les Yardbirds avec Jeff Beck en première partie m'ont au moins autant plu !



Les Beatles [TV Broadcast - Palais des Sports... par jstoskopf

Ont suivi : Spencer Davis Group au Top Ten (= Mimi Pinson sur les Champs) en 65, les Animals à l'Olympia en 66
Le Spencer Davis Group, les Walker Brothers, plus rock que sur leurs disques, et Jimmy Cliff, qui chantait du soul et pas du reggae, à l'Alhambra Maurice Chevalier en 66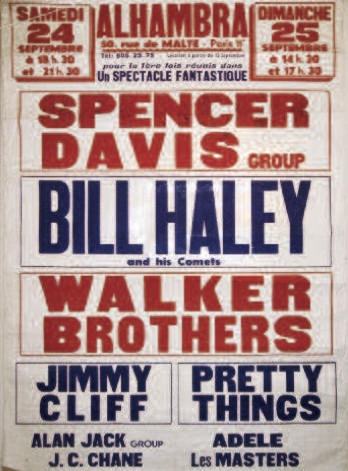 Jimi Hendrix à l'Olympia  en janvier 1968 :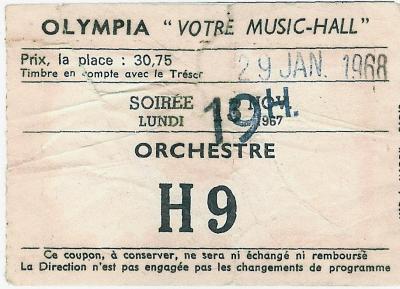 Ensuite, pami ceux qui m'ont marqué :

Led Zeppelin au Flushing Meadows Pavilion, New York en 69
Le Festival de l'Ile de Wight en 70, avec Jimi Hendrix, les Doors, les Who, Donovan, Miles Davis, Free, Sly & Family Stone, Ten Years After...
The Who et Rod Stewart  and the Faces à l'Oval (Londres) en 71
Chuck Berry à l'Olympia 72
La réunion (unplugged) du Velvet Underground en 72 au Bataclan  avec Lou Reed, John Cale et Nico (j'étais sous acide)
Grateful Dead à l'Olympia en mai 72 : 4 heures de plaisir !
Le Mahavishnu Orchestra avec John McLaughlin à l'Olympia et au Bataclan 74.
Yes à Bristol en 74
Patti Smith à l'Elysée Montmartre en 76
Les Sex Pistols au Chalet du Lac en 76, puis au Winterland de San Francisco en 78, juste avant leur séparation.
Les Rolling Stones à la Porte de Pantin en 76 : j'aurais préféré les voir avant, avec Mick Taylor, mais c'était quand même très bien.
Bob Marley and the Wailers à la Porte de Pantin en 77.

Culture au Palace 79 puis à la Mutualité, Elysée Montmartre.
Lone Ranger à la Chapelle des Lombards en 80 : le 1er sound system à Paris
Le Sound System 'Jah Love' avec Brigadier Jerry à Orange Hill et à  Bigga's, Negril,  Westmoreland, Jamaica en 81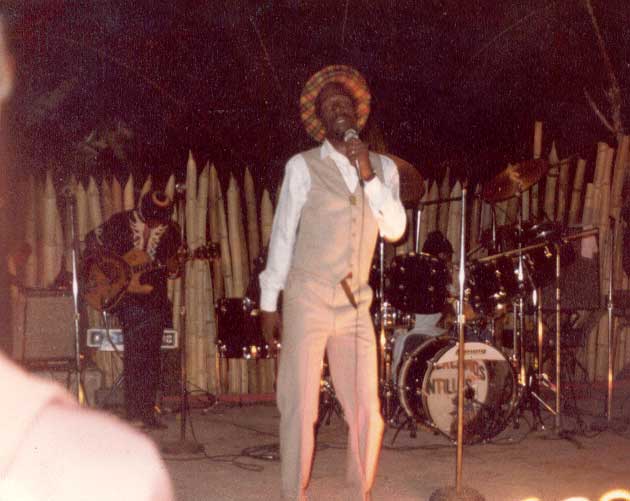 Gregory Isaacs at Bigga's, Negril, Westmoreland, Jamaica, 81 (photo Martine Simonet)

Le Reggae Sunsplash, Montego Bay, Jamaica 81 : Black Uhuru, Steel Pulse, Marcia Griffiths, Dennis Brown, Eek a Mouse,..
Mighty Diamonds au Golden Sunset, Negril, Westmoreland, Jamaica en 81, à la Mutualité en 82. + plusieurs fois au Bataclan, Aquaboulevard,
Maze  au Palace en 83
Freddie Mc Gregor à la Mutualité en 86 puis à l'Elysée Montmartre, au Bataclan..
Alison Moyet à l'Olympia 87
U Roy plusieurs fois : Mutualité, Bataclan, Aquaboulevard
Abyssinians à la Mutualité en 88. Grandiose !
Bernard Lavilliers à la Grande Halle de la Villette en 88.
Alexander O'Neal à l'Elysée Montmartre 91.
The Heptones et I Roy à l'Aquaboulevard en 95
Luciano, Sizzla à l'Elysée Montmartre 96
Le Sound System 'Blood and Fire' avec Steve Barrow, Ranking Joe, Joseph Cotton et U Brown  au New Morning 98.
Roni Size and Reprezent au Bataclan mai 98
Johnnie Clarke au Cabaret Sauvage, dec 98
Vu aussi :
Le festival du Palais des Sports de 70 qui s'est terminé par une quasi émeute et où les esquimaux volaient dans la salle, avec Gong ,Yes,...
Family, Genesis, Van der Graaf , Colosseum, Lindisfarne, Moody Blues, Olympia 70
Frank Zappa et les Mothers of Invention au Gaumont Palace, Place Clichy en 70
Johnny Winter and, Olympia ,juin 70
Alice Cooper à l'Espace Cardin en 71
The Band à l'Olympia en 71
Captain Beefheart au Bataclan en 70
Soft Machine à HEC en 71 ?
Gong et Crium Delirium à la fac de Jussieu en 72 : l'archétype du concert baba joyeux, avec plein de belles nanas !
Roxy Music au Bataclan en 72 ?, puis au Palais des Sports.
Pas mal de concerts au Ba-Ta-Clan pour l'émission "Pop 2" (5 F.) : Stone the Crows, Genesis, ...
| | |
| --- | --- |
| Merci à Catherine BOUDY pour ses tickets de concerts | |
Miles Davis à Chaillot en 71.
Lou Reed à l'Olympia en 73 en panda, en 74 en Steve McQueen

Rory Gallagher à l'Olympia 74
Les New York Dolls au Studio RTL et à l'Olympia 73
Stevie Wonder au Palais des Sports en 73 ?
Stephen Stills & Manassas à l'Olympia en 72
Detroit Spinners , Jimmy Castor Bunch, Ben E King à la Salle Pleyel en 75

Caravan, Genesis, plusieurs fois (Olympia, Bataclan..)
Crosby, Stills, Nash and Young à Wembley en 74
Herbie Hancock au Rainbow Theatre, Londres en 1974

Jess Roden , Chalk Farm, Londres 74
Temptations  à la Mutualité en 74
Tabou Combo à la Porte de Pantin en 74
Warner Bros "showcase" à l'Olympia en 75 : Doobie Brothers, Graham Central Station, Little Feat, Tower of Power
Montrose à l'Olympia en 74
Terry Riley à la Salle Wagram en 75
Todd Rundgren à la Mutualité en 75
Dr Feelgod plusieurs fois, au Bataclan, à la fête de 'Rouge' en 75
The Clash, The Jam, Damned, Generation X au Palais de Glaces en 77
Police, Cherry Vanilla au Gibus en 77
Heartbearkers au Bataclan en 78.
Siouxsie and the Banshees au Palace en 78.
Television à l'Olympia en 77
Iggy Pop à la Porte de Pantin en 78
Talking Heads au Palace en 79. Serge Gainsbourg avec Sly & Robbie en 79 : j'étais juste derrière Jane Birkin et son père.
Wailing Souls, U Brown au Golden Sunset, Negril, Jamaica 80-81
Toots and the Maytals  au Tree House, sur la plage de Negril, Westmoreland, Jamaica en 81.
Ras Michael and the Sons of Negus au Palace 80.
Gladiators plusieurs fois au Bataclan, Mutualité...
Hugh Mundell au Palais des Arts 80
Horace Andy et Max Romeo  au Palace en 82
Prince far I au Bataclan en 82.
Yellowman, Ini Kamoze, Half Pint et Sly & Robbie à la Mutualité, 86
Lionel Richie à Bercy en 87 (la seule fois que j'y ai mis les pieds !)
Dennis Brown plusieurs fois Mutualité, Bataclan, Aquaboulevard
Frankie Paul à la Mutualité, 89
Yami Bolo, Junior Delgado et Augustus Pablo à la Mutualité en 89.
Gregory Isaacs au Zénith 87 et à l'Elysée Montmartre, 90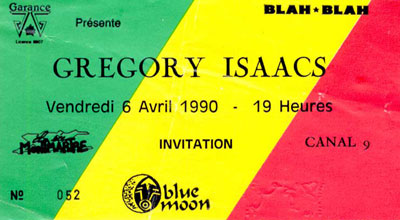 Bunny Wailer à  l'Aquaboulevard 90
Burning Spear au Zenith
Big Youth plusieurs fois Mutualité, Bataclan, Cirque d'Hiver
Pharoah Sanders au New Morning en 94.
Lisa Stansfield au Casino de Paris en 2005 (ma chanteuse préférée depuis 1989)
"Pelleas et Mélisande" de Claude Debussy au Théâtre des Champs-Elysées en juin 2007
Tristan und Isolde à l'Opéra Bastille en 2014, Parsifal, La Walkyrie, Le Crépuscule des Dieux, ... (maintenant je me déplace surtout pour des concerts classiques)