Fondé par deux amis d'enfance nés en 1954 en banlieue parisienne MARC PROFICHET (batterie, percussions) et HERVE QUEUDOT (claviers), OEDIPE prend son essor à la fin des années 60 et remporte le fameux TREMPLIN DU GOLF DROUOT à PARIS en 1971. La musique, de longs instrumentaux aux thèmes écrits et arrangés par le groupe et faisant la part belle aux improvisations des solistes (saxes, guitare, claviers, batterie) s'inscrit alors dans la lignée de l'école de CANTERBURY. Il ne subsiste aucun enregistrement de cette première période. Après différents changements de personnel, la rencontre en 1973 des deux membres fondateurs d'OEDIPE avec PHILIPPE MELKONIAN (Fender bass - né en 1956) et avec un jeune virtuose de 16 ans, le guitariste CLAUDE BARTHELEMY apporte au groupe stabilité et cohésion. L'écriture devient harmoniquement plus audacieuse, intégrant l'atonalité et l'usage des modes tout en conservant l'énergie et le swing des structures rythmiques du jazz-rock. Pendant quatre ans le groupe parcourt la France des clubs, des concerts et des festivals au rythme de 2 à 3 shows par semaine. Le morceau présenté ici, " ENOMENA ", une composition de CLAUDE, a été enregistré lors du concert donné à PARIS à la FETE de l'HUMANITE en septembre 1976 devant une audience de plus de 5000 personnes.
Claude BARTHELEMY Guitares (né en 1957)

Philippe MELKONIAN Basses (né en 1955)

Marc PROFICHET Batterie – Percussions (né en 1954)

Hervé QUEUDOT Fender Rhodes – Pianet HOHNER – Mini-Moog – Yamaha YC 45 D (né en 1954)
Founded by two childhood friends born in 1954 in a suburb of Paris, France, MARC PROFICHET (drums, percussion) and HERVE QUEUDOT (keyboards), OEDIPE sprang to life at the end of the 60's and was victorious in the famous "TREMPLIN du GOLF DROUOT" of Paris in 1971.
The music, long instrumentals with themes written and arranged by the group, the best parts made by improvising soloists (saxes, guitar, keyboards, drums), places it in the lineage of the CANTERBURY SCHOOL. No recording remains of this early period.
After different changes in the line-up, the meeting in 1973 of OEDIPE's two founding members with PHILIPPE MELKONIAN (Fender bass, born 1955) and a sixteen year old guitar virtuoso CLAUDE BARTHELEMY, brought stability and cohesion to the group.
The writing became harmonically wilder, integrating atonality and the use of modes while conserving the swing and the energy of jazz-rock's rhythmic structures. For four years the group travelled France and Belgium, playing clubs, concert halls and festivals at the rate of two or three shows a week.
The piece presented here, "ENOMENA" , written by Claude, was recorded at a concert given in PARIS on September 16th 1976 at the "FETE DE L'HUMANITE" before an audience of more than 5000.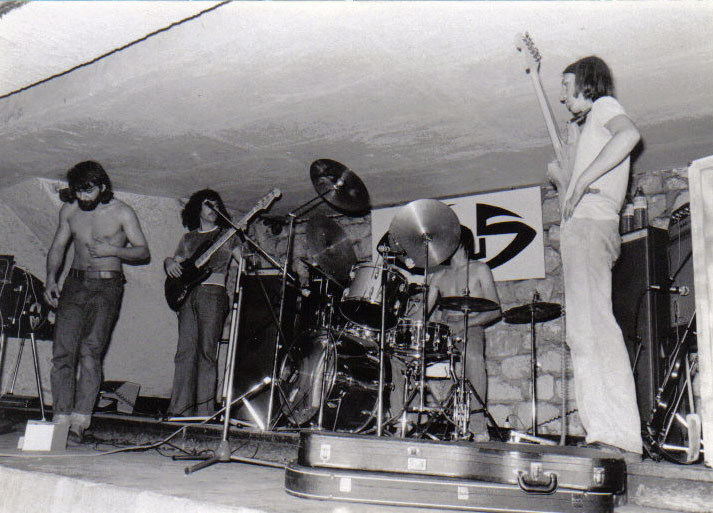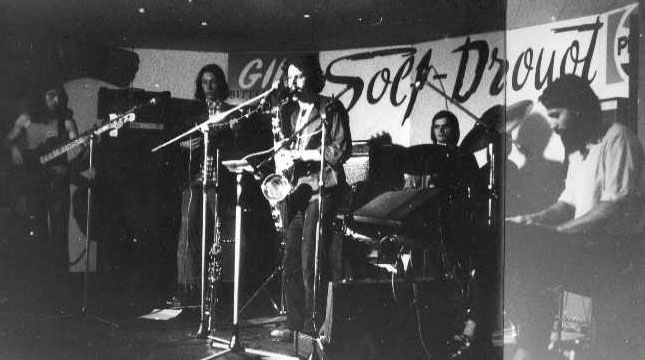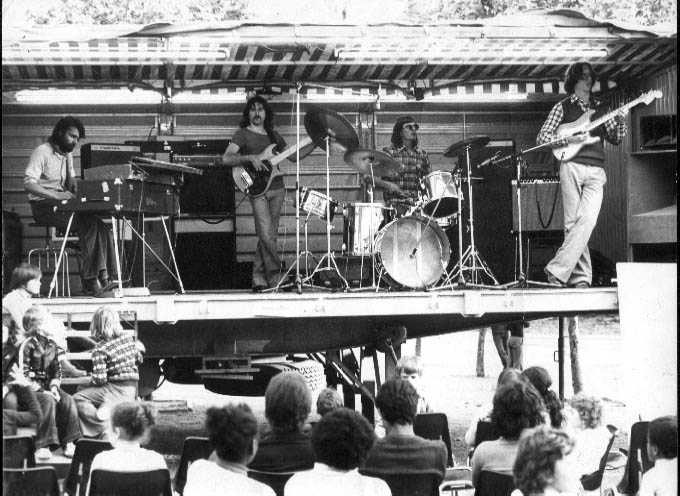 ---